Poor Man's Rife - Contact Pad Constructor (Part Two)
STILL IN WORK
Now that we have a reasonably accurate method of frequency generation established... we now need some method of applying or introducing those selected signals to their targets.
In most cases, the quickest and easiest method to accomplish this is by a contact pad method.
As we know from reading elsewhere on this website, Frequency Generation can come from a number of reliable sources. This can be supplied via off-the-shelf electronic function generators (lab and test equipment variety varying in price from a few hundred to many thousand dollars. There are units specifically designed toy drive the Bare-Rife plasma type devices starting in the $2 -400 range. The commercially available pad-type devices are little more than a relatively inexpensive frequency/function generator that is programable with some don't of "pad driver" hopefully built in.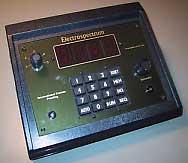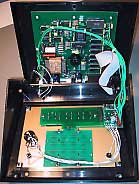 The device here is a commercially available unit which typically has sold under many different names for prices generally easily in excess of $1000. While in my personal opinion the price is NOT justified, it is not the purpose of this article to make critical comparisons or debate merits. However it IS our goal to assemble and understand how these units work and construct a unit which will functionally match or exceed the capabilities of these type units. .... and we are still going to attempt this on our "empty bucket" budget.
We have taken care of the SIGNAL issue in Part ONE and kept within our budget using our personal compute to provide the programability, storage, and graphical interface found in the very best of commercial generators. Our next step will to build a cable set for part 3. of our diagram below
1. SIGNAL >>> 2. AMPLIFIER >>> 3. CONTACT PADS
The marketed units typically have had pieces of cooper pipe you use as handholds, or metal plates to use as footpads ... even aluminum trays with water to place your feet in, or pieces of moistened terry cloth over a small metallic plate to act as the contact pads. In most of these cases you could simply clip your wires with the use of simple alligator clips. While these methods technically will allow a conductive circuit and contact to be made, it certainly is a testate to innovation and hints what can be done in a tight.
It is HIGHLY suggested that we substitute purchased reusable adhesive electrode pads for the above alternatives. Pad technology is quite good and conductivity has proven to be far more effective than the alternatives listed above. I have read that electrical transfer is approximately 10 times that of moistens pads. These are currently not a "prescription item, may be purchased from many pharmacies, chiropractors, even on the internet.
Typical Electrode Pads are sold for use with TENS, FENS, NEMS etc. type devices. The type here have the standard pin-type connection which we will use without modification.

While I have been quoted $32 for a pack of 4 direct from the pharmaceutical supply, prices half that or less are more realistic and to be expected.
For this Project I started with a stereo headphone extension cable and adapters readily available (app. $10 -WalMart).

The color coded probes are replacement probes for simple meter test sets. the short pin is the only part that is important. The short pins are slightly tapered and readily fit inside the electrode pad connectors. (app. $10-15 Radio Shack)
Cut "female" end of stereo cable approximately 6-8" from end.

Cut off and Discard all 4 of the long test probes.

Trim back, separate, sort, and prepare cables exposing app. 3/8" to 1/2" of bare wire.
Note: both BLACK probe leads are GROUND /COMMON / NEGATIVE and should be twisted together as one.

Connect the (double) BLACK probe wires to which ever of the stereo cable wires goes to the base of the stereo plug (probably black).

Connect each of the other RED probe leads to each of the other remaining stereo cable wires.. In this case RED and WHITE.
Wires hopefully should be soldered but can just as easily be twisted and taped. Make sure these wires cannot short against each other and are securely bound up or taped. An clean assembly can be made with the use of heat shrinkable tubing. This is but one recommended method of making a very durable and useful cable assembly.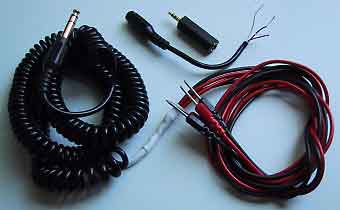 Shown below are equally usable and durable cable assemblies made from the same probe lead sets and a single stereo jack to be used with an existing (unmodified) stereo extenuation cable. Both 2 and 4 lead versions are shown below.
| | |
| --- | --- |
| | Shown here is an alternative set using only the test leads and a stereo phono jack (shown in both 2 & 4 lead configurations) but relies on a user supplied stereo extension cable similar to that show in the right side of photo. |
| | |
| --- | --- |
| For those persons who are NOT able to construct the above, we will be making available THIS experimenter kit which will be replacing the previous versions. (Select HERE or the photo for more information.) | |
NEXT... lets connect this to something!