Poor Man's Rife - Frequency Generator (Part One)
POVERTY - THE INSPIRATION OF INNOVATION AND RESOURCEFULNESS
Sometimes "lacking funds" can be the inspiration that is needed to find "innovative" ways to accomplish your tasks. Rather than do without, I searched for tools to accomplish what I wanted to do as well as help some others that I knew were looking in the same direction with the same "financial limitations". I had but 3 criteria when I began.
FIRST ... it had to be FREE !
SECOND ... it had to be EASY ! (both to install AND operate)
THIRD ... it needed to be able to use just about any sound card.
I believe I succeeded in solving MY immediate needs .. and I hope it may be either the solution or at least the inspiration you need to help with your specific RIFE project.
This Introduction to Rife Technology website is pleased to be affiliated with the RenewedLife Group of websites
You may also like to visit our commercial Rife website at: www.RIFEforLIFE.com
(select icon to download)

DOWNLOADS

NICH
ToneGenerator

First I decided on 2 pieces of software. There were many reasons for selection of these 2 particular pieces but the main reasons were that they were FREEWARE rather than Shareware. I selected NCH Tone Generator (by NCH SwiftSound - www.nch.com.au )
WinAmp (by NullSoft, Inc. - www.winamp.com )




WinAmp

Both pieces of software are readily available for download from either my site or almost ANY shareware/freeware archive. Get them both and install them. (As you will see the files are relatively small ... installation is quick and very easy !!!)
FREQUENCY LIST
As long as you are in downloading mode .... get yourself a copy of Brian McInturff's "Big List" more often referred to as "The Consolidated Annotated Frequency List" or just "CAFL".
http://www.electroherbalism.com/Bioelectronics/FrequenciesandAnecdotes/CAFL.htm or he has other lists and links at
http://www.electroherbalism.com/Bioelectronics/FrequenciesandAnecdotes/
(There are other lists out there ... these just seem to be MY favorites.)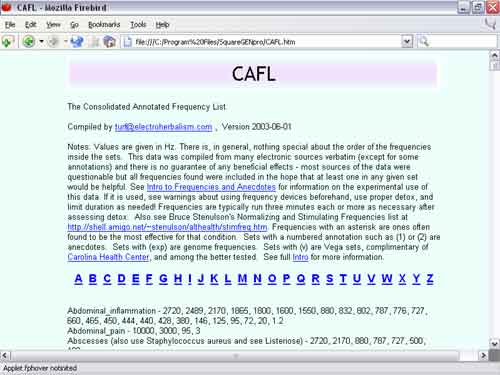 Either view his "big list" online or on a downloaded/local copy on your machine. Select your "affliction de jour" ... for example I have selected "Rheumatoid Arthritis".
"Arthritis, rheumatoid (Cause could be bacteria like chlamydia pneumonia, mycoplasma fermentans, or dental bacteria which must be addressed too. Also try General antiseptic and Parasites roundworms general if no response.) - 250, 1.2, 650, 625, 600, 787, 727, 262, 776".
TONE GENERATOR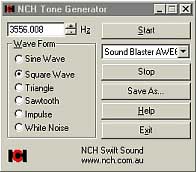 Using the NCH Tone Generator Software we will generate a small wave file for each of these frequencies. Our first frequency will be "250". Make sure you set the "Wave Form" selector to "Square Wave".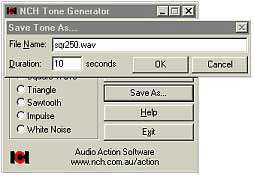 With your target frequency, (250), entered in the appropriate box, select "Save As". A box will pop up prompting with a filename and duration in seconds. the default naming notation will be something like "sq250.wav". I use the default 10 seconds.
Note: The Tone generator program will allow you to enter the frequency to be generated to three decimal places. Since periods are not typically allowed within the windows filename, I recommend substituting a "-" or "_" in its place so that you maintain an accurate record of your recording.
Go ahead and record your other frequencies as well. I constructed a folder named "R-Arthtitis" and dragged ALL of the WAV files over into that folder. I recommend making a separate folder for each "affliction" you intend to experiment with. These folders can be placed in any logical place you wish and you can close all these windows and programs down.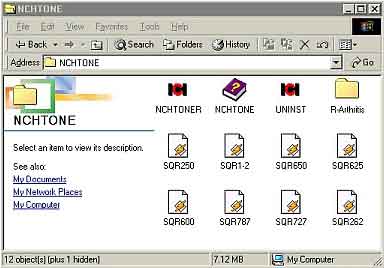 Once you have the frequencies recorded like this, you need only use the Tone Generator program to build new wave files.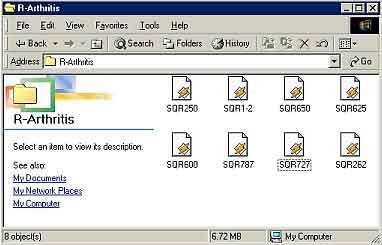 As you should be able to see now .. you have your generated frequencies recorded in a digital format that is easy to play, copy, manipulate, even record to audio (or data) CD, cassette tape, MP3 players .... your imagination is the limit ! ..... but for now .. we are going to just "play" them on our sound card !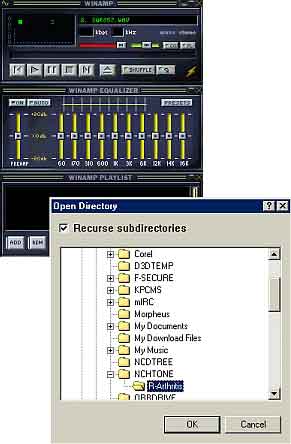 PLAYING THE SOUND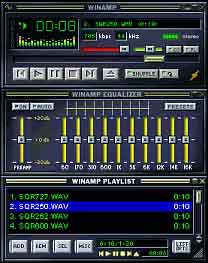 Open the WinAmp application you installed earlier. Select "ADD" (bottom left), then "ADD DIR", ...select your "affliction folder" and then "OK".
You are now ready to press the PLAY Icon (>) on the top module.
DO IT !!!!
I think you will quickly see the feature rich versatility of this little program, allowing you to add folders, individual files, sort, etc. You can repeat indefinitely, play randomly, manipulate and arrange to your hearts content ... or do nothing at all. Let your own imagination and unique personal needs be your BEST GUIDE to using this program
NEXT ............ LETS ***DO*** SOMETHING WITH THIS SOUND! (coming soon !!!)